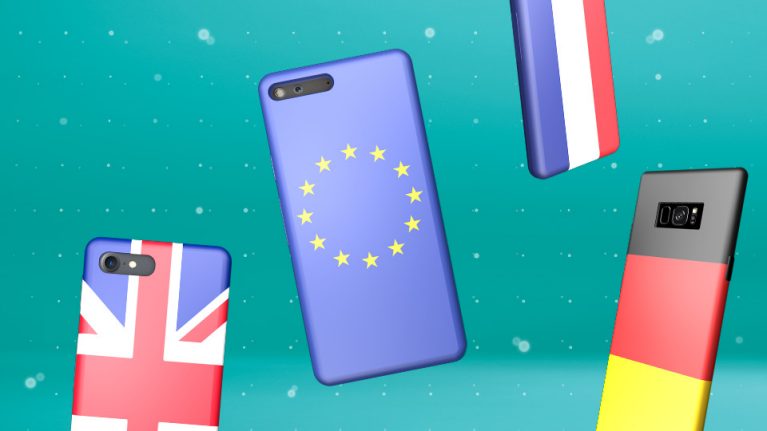 Roaming where it counts
When it comes to running your business, a connection that you can trust is vital.
Please be aware that due to Brexit, there'll be some changes to any plan you take out from 27th October 2021. The allowance of our plans will no longer include using the minutes, texts, and data in our Europe Zone.
Instead, there'll be a daily £2 charge to use your phone in our Europe Zone unless you have an add-on, Smart Benefit or plan that includes roaming.
If you're heading away this year though, you're in luck – as the daily charge starts in January 2022.
Either way if you're going abroad soon, rest assured you'll have your business at your fingertips.
Going further afield? Check roaming costs

Work, surf, stream and share abroad just like you do at home for a fixed price per day with EE Roaming Passports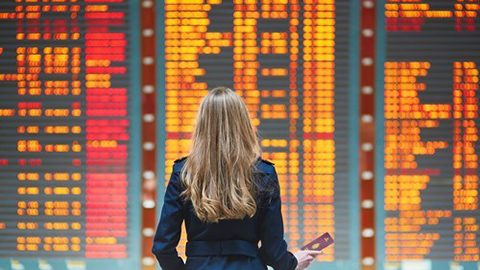 Travelling outside of the EU?
For a fixed price per day our Roaming Passports let you use calls, texts, and data abroad in up to 59 of our most popular destinations outside the EU. You'll get unlimited calls, unlimited texts and a massive 1GB of data per day.
Opt in once and your Roaming Passport is ready whenever you need it. You're only charged for data, calls, or texts used in an included country.
Everything you need to know about Roaming Passports >
Just need some data?
Choose Travel Data Pass and use your phone abroad in our most popular destinations just like you do at home.
Why you should choose roaming on EE
Great 4G coverage, at home and away
We bring you 4G in more places in the UK than any other network, as well as 4G with 125 networks around the world.
No nasty surprises
Get usage alerts when you're near the end of your data allowance and never go over at home or abroad thanks to the our data cap.
Easy to do business around the world
Clients in the States? Suppliers in India? Avoid unexpected bills on business trips with Roaming Passports added to a Business plan.
Your roaming questions answered
How to make sure roaming is set up
As an EE business customer, you may already be set up, but here's how to check:
Text ROAMING to 150 (it's free) before you travel.
You'll get a text confirming you're set up or telling you how to set up roaming on your device.
Remember - roaming can take anything up to 24 hours to become active on your account, so it's really important to check you're set up well before you set off.
Which destinations are covered?
Our Europe Zone presently includes:, Austria, Azores, Belgium, Bulgaria, Croatia, Cyprus, Czech Republic, Canary Islands, Denmark, Estonia, Finland, France, French Guyana, Germany, Gibraltar, Greece, Guadeloupe, Guernsey, Hungary, Iceland, Ireland, Isle of Man, Italy, Jersey, Latvia, Liechtenstein, Lithuania, Luxembourg, Madeira, Malta, Martinique, Mayotte, Monaco, Netherlands, Norway, Poland, Portugal, Reunion Islands, Romania, San Marino, Saint Martin (French), Saint Barthelemy, Slovakia, Slovenia, Spain, Sweden, Switzerland and Vatican City (Italy).
Note: Turkey (you may connect to a Turkish network in Northern Cyprus) and Andorra are outside the EU/EEA and not included in our European Roaming Zone.
What happens to my EU passes & add-ons?
Everything you get with these passes and add-ons is now included in your plan at no extra charge. We'll remove it automatically from your account as you won't need it.

Is there a fair use policy in the EU?
While your roaming in our Europe Zone, data fair usage policy may apply, see plan details and Terms and Conditions of the EE Price Guide for Small Business for more information.  Customers on Business Connect plans are exempt from the Fair Use Policy.
When the fair usage policy applies to you, once you've used up your fair use amount when roaming, we'll notify you and you'll have to buy a data add-on if you want to keep using data when roaming.
For more information, read our Fair Use Policy.
Please also note that these roaming benefits are available to UK based customers only and our plans are intended for customers and users with a stable link to the UK who travel abroad periodically. For details of what we consider to be stable links, and the surcharges or other restrictions which we may apply where the user does not meet the stable links requirements, please see our Price Guide at ee.co.uk/businessterms
What data speeds can I expect when roaming?
Data speeds outside the UK will depend on the local network you connect to. 4G may or may not be available. As in the UK, your coverage and speed will vary depending on your location, the number of people on the network and other factors such as weather and geography. 

Is there a limit on data roaming?
If you're roaming in the EU there's a £45 cap per month per user for data usage.
To continue using data after the cap has been activated, please call customer service or text 1MCAP to 150 to unblock usage for 1 month.
To remove the cap permanently, just text STOPEUCAP to 150 at any time.
Business Connect works in the EU in the same way as it does in the UK. When your allowance is used up, data is charged at 1.6p per MB.
The legal bit
From 15th June customers on eligible plans will be able to use their minutes, texts and data at no extra cost when roaming in the EU/EEA. Speed and service will vary depending on the service available in the country you visit. You must be normally resident in the UK. Deposit may be required in limited circumstances. Data fair usage policy may apply.